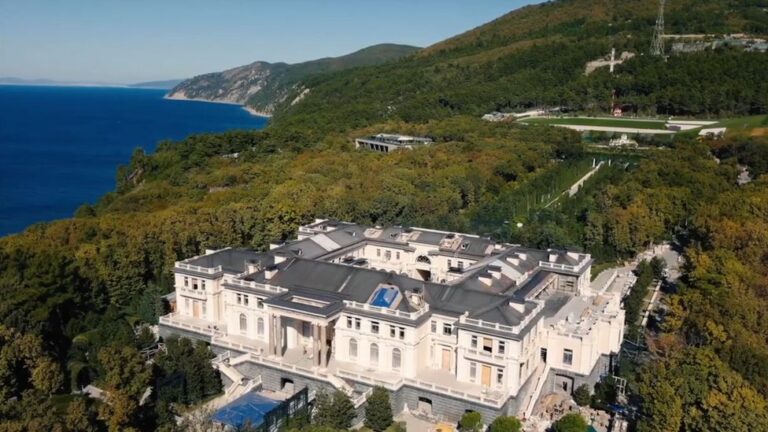 A video investigation by Russia's leading opposition figure that claims President Vladimir Putin spent illicit funds on an extravagant Black Sea palace has reached more than 20 million people within a day of publication.
Alexei Navalny's team released it after he was jailed on his return to Moscow.
The investigation alleges the property cost £1bn ($1.37bn) and was paid for "with the largest bribe in history".
The Kremlin denies the property belongs to the president.
Claims that federal officials were guarding a vast palace complex on the Black Sea coast were "pure nonsense", spokesman Dmitry Peskov said.
The Navalny investigation describes the property as 39 times the size of Monaco.
The report was released on Tuesday, two days after Mr Navalny flew back from Germany and was arrested at the airport.
He was placed in pre-trial detention for 30 days on Monday on a charge of violating probation terms for a suspended sentence for embezzlement that he maintains is politically motivated. A separate case against him was due to start on Wednesday but was postponed.
What does the investigation say?
The report claims the property in the resort town of Gelendzhik was constructed using illicit funds provided by members of Mr Putin's inner circle, including oil chiefs and billionaires.
"[They] built a palace for their boss with this money," Mr Navalny says in the video.
It alleges that Russia's Federal Security Service (FSB) owns some 27 sq miles (70 sq km) of land surrounding the private residence.
The report describes various details of the property, and claims it features a casino, an underground ice hockey complex and a vineyard.
"It has impregnable fences, its own port, its own security, a church, its own permit system, a no-fly zone, and even its own border checkpoint," Mr Navalny says in the video.
"It is a separate state within Russia," he adds. "And in this state there is a single, irreplaceable tsar. Putin."
Mr Peskov told state news agency RIA Novosti on Tuesday that claims made in the report were "untrue" and that the president "doesn't own palaces".
He went further on Wednesday, insisting that the president declared all his property annually. "These are all absolutely unfounded claims," he said. "This is pure nonsense and… there's nothing else in it."
The video report was released on Tuesday and, within little over 24 hours, it had already been viewed more than 22 million times.
It ends with a plea for people to take to the streets. "If 10% of those who are disaffected take to the streets, the government will not dare falsify elections," Mr Navalny says.
Editor's Note: Putin's palace, mentioned in the news, is located within the territory of historical Circassia. The Circassian name of the city of Gelendzhik, where the palace was built, is Khulijiy.
Source : BBC News
Ghuaze